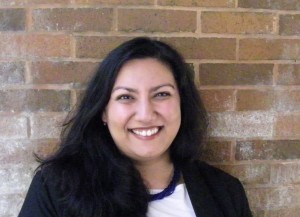 Eesha Pandit is a Houston-based writer, activist and consultant for social justice organizations.
She is Co-founder and Managing Partner at The Center for Advancing Innovative Policy (CAIP). CAIP is a think tank that harnesses grassroots wisdom. At the Center for Advancing Innovative Policy (CAIP) Eesha specializes in working with a broad range of organizations, including community groups, national organizations, local and state leaders, coalitions, as well as funders to create innovative policy advocacy strategies that succeed in fostering progressive policy change and building vital connections across movements.
Her writing can be found at The Crunk Feminist Collective, Salon, Feministing, The Nation, RH Reality Check, Feministe, Bitch Magazine and In These Times. She has also appeared on numerous TV news outlets including CNN, HLN, MSNBC and Grit TV with Laura Flanders. See her writing here.
As a consultant, Eesha works with national and international social justice organizations to create, implement and sustain effective programs and impactful communications strategies. Her recent clients include: United We Dream, Provide, Women with a Vision, National Resource Center on Domestic Violence, The International Rescue Committee, The NoVo Foundation, The Idaho Coalition Against Sexual and Domestic Violence, and The Civil Liberties and Public Policy Program. Find out more about her consulting work here.
Eesha recently served as a Movement Maker Fellow with the Move to End Violence (MEV) Program of the NoVo Foundation. The prestigious MEV fellowship brings together 20 national leaders to make connections across organizations, issues and perspectives in the service of a stronger movement to end violence in our communities.
Eesha has a long history of non-profit leadership, having worked as Executive Director of Men Stopping Violence, a social change organization dedicated to ending men's violence against women. She's also served as as Women's Rights Manager at Breakthrough, a global human rights organization. At Breakthrough, Eesha worked on the Bell Bajao! (Ring the Bell!) Campaign that asks men and boys to take action, get involved, and help end violence against women. Previously, Eesha served as Director of Advocacy at Raising Women's Voices (RWV). RWV is a national initiative working to make sure women's voices are heard and women's concerns are addressed as policymakers put the new health reform law into action. At RWV, Eesha coordinated a national field network of 22 state-based regional coordinators working to include women's health access in local, state and national policy efforts. Eesha has also served as Associate Director of Programs at the Civil Liberties and Public Policy Program at Hampshire College, where she coordinated the organization's New Leadership Networking Initiative and the Reproductive Rights Activist Service Corps. She's worked with the Carr Center for Human Rights Policy at Harvard University, and Amnesty International USA's Women's Rights Program. Eesha recently completed 6 years of service on the Board of the National Network of Abortion Funds. She is a member of Houston Mayor Sylvester Turner's LGBTQ Advisory board.  She has a B.A. from Mount Holyoke College and an M.A. from the University of Chicago.